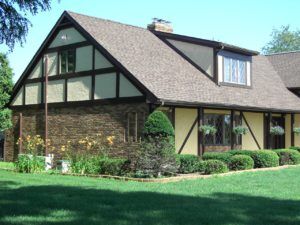 If you live in South Florida, you know it is prone to extreme weather events. If you spend time worrying about what damage might happen to you house if it is hit by a hurricane, you are not alone. Impact windows and doors are unquestionably the best investment you can make to hurricane proof your home.
Some worry whether it is feasible for them to pay for such an important investment. Luckily, there are affordable ways to protect your home from damage caused by a hurricane. Here are our our top 3 Inexpensive Ways to Hurricane-Proof Your Home.
1. Install Storm Windows
If you don't protect your windows, especially, you run the risk of them shattering in a storm, which causes an extremely unsafe pressure change inside of a house and can result in the roof of the structure tearing off to accommodate said pressure.
Some have tried to use plywood boards to prevent glass from shattering in a hurricane. It is now known that the negative air pressure from hurricanes will suck the plywood right off. Once that happens, the plywood can end up circling the house along with other debris from the storm. This is why there are never any insurance discounts for boarding up. Insurance companies know, boarding up is no protection at all.
Even if you are unsure that you can afford impact windows or doors at the moment, you still absolutely should consider it. Payment plans are available that will allow you to protect your home for as little as $88 per month* with zero down. You may be approved regardless of your credit**.
Energy efficient impact-rated hurricane windows can save on your electric bill each month. This can offset the monthly cost of new windows. According to the EPA our windows can save you 31% off your electric bill (compared to single-pane windows).
When adding hurricane windows and doors, insurance discounts will likely be available. When adding hurricane protection, most see major discounts off of their homeowners insurance. This too can offset the monthly cost of new windows.
Our Paradise Platinum Series is the only hurricane window recognized by the National Crime Prevention Council. In addition to impact glass, our Paradise Platinum Series has additional security features. These products can improve your home security year-round by helping to reduce break-ins.
2. Reinforce Your Deck and Your Roof
A hurricane is typified by extremely forceful winds that can wreak havoc on outdoor furniture and the roof of your house. Past survivors of particularly bad hurricanes have reported watching cars and even steamships get tossed around in winds. It goes without saying that flying debris of this kind is extremely dangerous. To protect your deck from being irreparably damaged, tie your deck down its supports before a storm.
Also, always remember to bring any outdoor furniture you may have inside before a storm. This will keep it from being blown away in a hurricane. This will also make sure your furniture does not hurt yours or someone else's house (or someone else, for that matter).
Your roof is one of the most important aspects of your home to consider when it comes to preparing for storms. If your roof may be ready for replacement, contact us for a free inspection and price. Payment plans are also available for roof replacement, similarly as for windows. Even homeowners on a budget are able to afford a high-quality new roof that is wind rated to help protect their home from hurricanes.
3. Hurricane Proof Your Gutters
The fact of the matter is, with hurricanes come rain – and a lot of it. To protect your house from incurring costly and unsafe water damage in a hurricane, make sure that your house's gutters and downspouts are kept clean and positioned to direct the flow of water away from your house. If you don't, then you run the risk of water backing up and pouring into the structural foundation of your house or your attic, thereby decreasing the structural security of your home. Make checking your gutters and downspouts part of your weekly upkeep – trust us, you'll be happy you did.
These 3 tips will help you protect your property and your family from injury in a hurricane, but nothing will ever give you peace of mind like windows and doors that are specifically crafted to withstand the force of Mother Nature in a hurricane. If you live in a hurricane-prone place and you're going to make one investment for your family, make it hurricane-proof windows and doors – and if you have any questions about what this entails, Paradise Exteriors is always here to help.
Also read: Why Everyone Wants Storm Windows
If you need more info on how to Hurricane-Proof your home, call Paradise Exteriors, LLC at 844-749-2121, or fill out our online request form.
* Subject to approval and other factors. **Some programs may offer approval regardless of credit.