There's nothing more enjoyable than living in the Sunshine State – except when mother nature keeps you cooped up indoors due to severe storms. Hurricanes are a central component of what makes Florida weather so volatile.
Hurricane season starts on June 1 and ends on November 30 each year. Because Florida is positioned between the Gulf of Mexico, Atlantic Ocean and the Caribbean Sea, it is uniquely vulnerable to severe storm activity. However, keeping some preparation practices in mind, you can be ready to enjoy your life in the Sunshine State to the fullest. Use this guide to ensure that you are fully prepared before and after hurricane season in Florida.
How Often Do Hurricanes Occur in Florida?
Major hurricanes occur approximately every three years in Florida. However, this is not a guarantee that you will have multi-year breaks in between storms. Hurricanes can range in severity, where a mild one might seem like an intense thunderstorm, and a severe one can cause catastrophic damage to an entire region.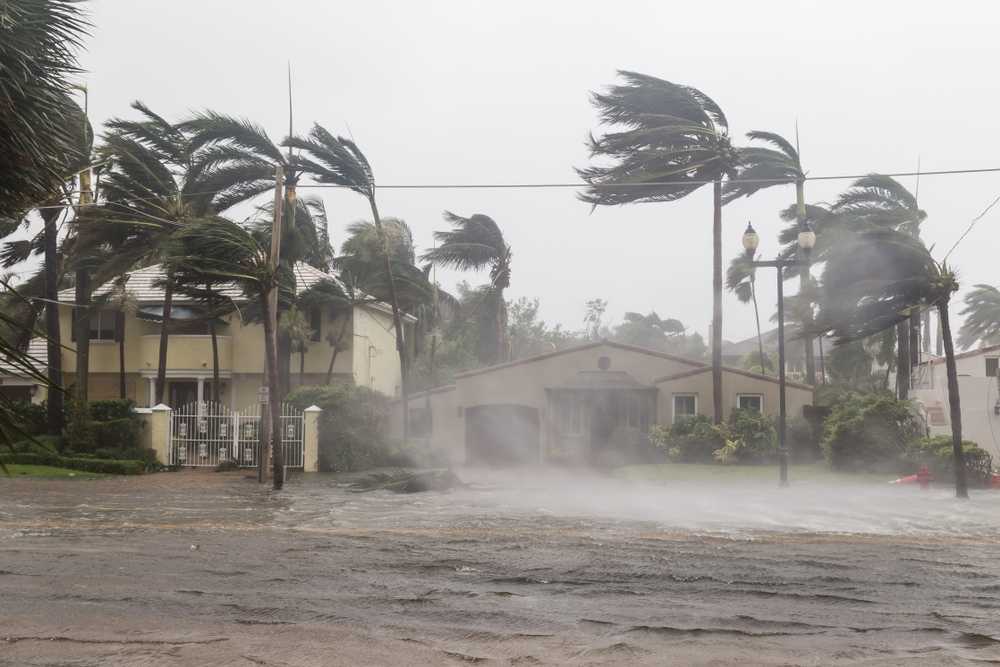 What to Do Before Hurricane Season
Instead of panicking at the last minute, use this checklist to help you stay safe during a hurricane:
Create an Evacuation Preparedness Kit
Should you live in an area that requires a mandatory evacuation, be prepared to leave your home quickly. Ready.gov recommends packing a bag with the following survival items:
Water (one gallon for each person per day for several days, for drinking and sanitation)
Food (at least a several-day supply of nonperishable food)
Battery-powered or hand-crank radio and an NOAA Weather Radio with tonal alert
A flashlight with fresh batteries
A first aid kit
Extra batteries
Whistle for alerting emergency responders to your location
Dust mask to help with filtering contaminated air
Plastic sheeting and duct tape for shelter in place scenarios
Personal sanitation items: moist towelettes, garbage bags, and plastic ties
Wrench or pliers if you need to turn off utilities
A manual can opener for accessing food items
Local maps of the region for evacuation
Cell phone with a charger and a freshly charged backup battery
Learn Your Local Evacuation Routes
Learn your local evacuation routes and consider driving them on a calm day as a "test" to familiarize yourself. If you don't know your evacuation route or are new to the area, ask your neighbors, local police, or fire department for help.
Take Your Car For Service
Before the next hurricane season, take your car for service to have its fluids, breaks, oil, and windshield wipers in good working order and address any structural issues with the vehicle.
Create an Evacuation or Shelter in Place Plan with Your Family
Create an evacuation plan with your family. Choose several places to go – a friend's home in another town, a motel, or a shelter. If you have pets, find out which motels or shelters allow pets. Consider creating a plan for sheltering in place if authorities permit doing so.
Read Up On Florida Weather News Regularly
If you're already a regular reader of Florida weather news, then you're already one step ahead! If not, make a point of checking local news reports regularly for any potential warnings during hurricane season. Knowing what's coming in advance will give you more time to prepare and put preventive measures in place to keep your home safe and secure.
Make Sure Any Structural Issues With Your Home Are Repaired
Ensure any structural issues with your home, such as leaky roofs, drafty windows, open doors, etc., – are repaired before a hurricane hits land.
What to Do After Hurricane Season
Reassess the Integrity of Your Home's Windows, Doors, and Roof
If strong winds and heavy rains have damaged your home, check to make sure it's still structurally sound. After a severe storm, check for any cracks or gaps around doors and windows that could allow water to seep in and cause mold or mildew. If you find any weaknesses in your home's structure, call a professional immediately.
Take Your Vehicle for Another Inspection
Wind, water, and flying debris can cause a lot of damage to your vehicle. This can be especially true if your car is parked under a tree or in an area where it is exposed to wind, rain, and debris. While you may be able to drive your vehicle after a storm passes through, it's still important to take it for an inspection afterward. Most collision centers will provide free inspections after major storms.
Check the Dates on Any Perishable Items in Your Evacuation Kits
Check the dates on any perishable items in your evacuation kits. These include bottled water and nonperishable foods and prescription medications, and over-the-counter products like painkillers. If any of these have expired, replace them as soon as possible.
Continue Following Weather News
Hurricane season ends on November 30, but that doesn't mean the danger is over. While the season is winding down, it's important to continue following weather news and preparing for storms that could still happen in the off-season.
Make the Necessary Arrangements to Repair the Damaged Areas
If a hurricane affected your home, contact your insurance provider to help with costs. You'll also need to contact a contractor as quickly as possible so that cleanup can begin right away.
Upgrade to Hurricane Impact Windows
Luckily, we can take measures to make our homes more resilient against the next hurricane. One of these measures is installing hurricane impact windows. To help you understand how these windows work and why they're better for protecting your home than regular windows or storm shutters, here are some key benefits:
Permanently Installed
Permanently installed storm windows are one of the most important ways you can protect your home against hurricanes and tropical storms. These window coverings protect against wind-borne debris and dramatically reduce the amount of water that enters a building during a storm.
Superior Resistance to Wind, Water, and Debris
Impact windows can withstand extreme weather conditions. These windows stand up to high winds and can prevent damage from heavy rains or blowing debris. When you upgrade to hurricane impact windows, you can relax during hurricane season, knowing that your home is safe from most potential threats.
No Setup, Teardown, Storage, or Maintenance Required
If you've ever boarded up your windows with plywood during a hurricane warning, you know how much of a hassle it is! Impact windows require no setup, teardown, storage, or maintenance.
Superior Thermal Control for Energy Efficiency and Utility Savings
Compared to traditional glass windows, hurricane impact windows have superior thermal control, leading to significant energy and utility savings.
Better Home Security
Hurricane impact glass offers better security than regular glass because it cannot be broken into easily by an intruder.
Prepare Your Home for Hurricanes This Year with Impact Windows
You can't control the weather. But you can prepare for it. Impact storm windows will add beauty and style to your home while protecting it from hurricanes, wind damage, and more. Contact Paradise Exteriors to learn more about Paradise Platinum windows. They are the only ones that are both EnergyStar-Awarded, and Crime Stoppers endorsed. Claim your free estimate today.
Also see: When To Replace Windows In Your Home