Our Impact Windows Provide the Reliable Storm Protection You Need in Brandon, FL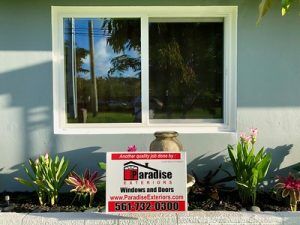 Brandon, Florida, is a city that's exceptionally vulnerable to hurricanes. So, as a local resident, you need to ensure that your home is protected from Mother Nature's worst. Choose Paradise Exteriors' professionally installed Brandon Florida impact windows to know that your home will be protected.
The best impact windows protect the interior of your home from damage caused by airborne debris and hurricane-force winds. Unlike storm protection panels and other options that you would need to install as a storm approaches, your impact-resistant windows will be ready to safeguard your home whenever needed. This will allow you to spend more time focusing on other aspects of your storm preparation routine.
Our windows will reliably withstand sustained winds of 140 mph and gusts up to 212 mph, keeping wind and rain from damaging the interior of your home. We've installed these windows on countless Florida homes since our founding in 2007, and it would be our honor to do the same for your home.
Additional Benefits of Paradise Exteriors' Impact Windows in Brandon Florida
Although storm protection is supremely important, you'll want your impact windows to perform other functions as well. For this reason, we install impact-resistant windows that will:
Help insulate your home for reduced energy usage
Filter out damaging UV rays to protect your flooring and furniture from fading
Minimize noise infiltration to create a more peaceful home environment
Fully safeguard your investment, thanks to double lifetime warranty protection
Taking all of this into account, you're certain to find that we offer the best impact windows for your investment.
Entry Door & Impact Window Replacement
A home window replacement project presents the perfect opportunity to replace your front door as well. Or perhaps you only want to have your windows replaced and don't need new impact-rated doors. In either case, you're going to love our fiberglass entry doors, which combine the beauty and elegance of wood with the strength and durability of steel. The doors effectively resist warping, corrosion, rotting, delamination, mold, and mildew. And like our impact-resistant windows, our doors are certified for High Velocity Hurricane Zones (HVHZ), which means they'll stand strong through even the most extreme weather.
Brandon Florida impact windows or doors that you can truly rely on. Contact Paradise Exteriors today to learn more about the installation services we offer in Brandon, FL for hurricane windows and much more.