Our Hurricane Windows Provide the Reliable Protection You Need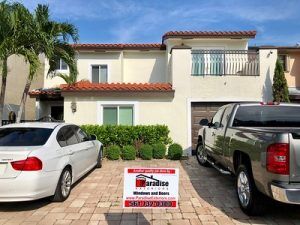 Although hurricane windows may cost a little more than conventional windows, they can save you a tremendous amount of hassle and money when the next hurricane approaches Tampa, Florida. Instead of having to quickly install storm panels or plywood over your windows, you can rest assured knowing that your windows are already protected with no work required of you.
Paradise Exteriors offers professionally installed hurricane-resistant windows that will withstand sustained winds of 140 mph and gusts of 212 mph to keep your family, home, and valuables secure. Designed to perform in High Velocity Hurricane Zones (HVHZ) and backed by double lifetime warranty protection, our windows provide the safest investment available for your home.
Windows That Meet All of Your Functional & Aesthetic Requirements
Having served countless Florida homeowners since 2007, Paradise Exteriors recognizes that customer needs and preferences vary widely. For this reason, we offer an array of hurricane windows that differ in:
Manufacturer – We source our impact windows from multiple respected brands, ensuring that you have plenty of options while still receiving a well-made product no matter what.
Material – Our selection includes both vinyl and aluminum impact windows. During your free consultation, we can help you determine which window material best suits your needs.
Style – Choosing hurricane windows doesn't mean limiting your design options. We offer an extensive array of window styles, including double-hung windows, which many impact window companies don't carry. We also do a full service window replacement.
Speak With the Specialists
Let's equip your home with storm protection that you can truly depend on. Contact Paradise Exteriors today to learn more about the hurricane windows we install in Tampa, FL.