South Florida Impact Entry Doors Contractors
At Paradise Exteriors, LLC of South Florida, we strive to offer the widest selection of Palm Beach County impact entry doors available to all of South Florida.
Your entry doors should be a reflection of your home's unique and one-of-a-kind personality without sacrificing security. We offer premium quality hurricane impact-rated exterior doors.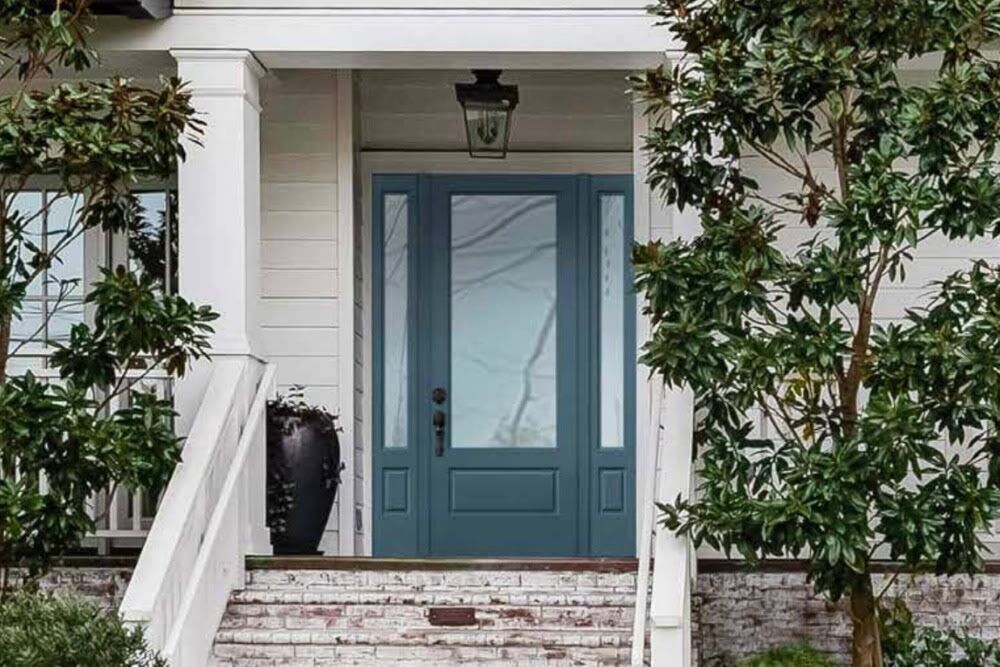 We offer fiberglass doors that mimic the look of wood but will not warp, swell or rot like wood can. The deep wood grains can bring a rich character to your design much like solid wood, but with the added strength and efficiency of fiberglass. Our doors can include beautiful sidelights, made with impact glass. Doors may also include decorative windows with a number of gorgeous designs.
In terms of cost value, a new impact entry door is the most effective way to make your home look more attractive. A new door will make your home instantly more attractive. It'll be the first thing anyone sees when they visit your home, and it'll make a fantastic first impression. Hiring a professional you know you can trust to get the job done right is very important. Choosing our entry door installation experts can make sure you get quality craftsmanship.
We have a large variety of doors for you to choose from, and we'll work with you to make sure you're getting the best impact entry door for your home. We'll help you choose your door based on your architecture, decoration style, and your budget. Your new South Florida entry door installation can not only transform and enhance your home's exterior but also the interior as well.
Features of Our Impact Entry Doors for South Florida Homes:
Premium Fiberglass Construction
We offer doors for both interiors and exteriors made from fiberglass that perfectly mimic the appearance and feel of smooth oak or mahogany. The deep grains introduce a rich character to your design that shares a similar aesthetic to solid wood, but with the improved strength and efficiency that comes with fiberglass.
With the superior durability that fiberglass doors provide, your home's entryways will remain further protected from common hurricane-related threats like high water levels, intense winds, and large pieces of flying debris. Our doors are rigorously designed and thoroughly tested to serve as the most complete shield possible.
Our impact entry doors also provide plenty of opportunities to customize them to suit your home's current appearance or any new aesthetic you desire. Choose from a wide range of colors and styles to find that perfect new addition to your home that you've been dreaming of.
A More Comfortable Interior
The superior sealing technology provided by impact entry doors can help to create a more comfortable interior for your home. With the seals restricting air leakage to a minimum, your home will maintain a more stable indoor temperature, which also places less strain on your HVAC system. In turn, this increased energy efficiency can generate additional savings on your monthly utility bills.
Impact entry doors can also help to reduce the amount of outdoor noise that enters into your living space. Enjoy a greater level of comfort, peace, and quiet at all hours.
Impact Entry Doors South Florida HOA Approved
The State of Florida hosts the second-highest number of homeowner associations in the country. With this in mind, you may face limitations on home renovations and customizations.
The generous selection of impact door designs, colors, and styles that we offer allow you to better protect your home while remaining fully compliant with your HOA guidelines and local municipal building codes. We will also be happy to answer any questions that your local code department or HOA governing body may have about your new doors.
No Costly Demolition or Renovation
Unlike other home improvement projects, installing an impact entry door does not require extensive demolition or renovation. This generates incredible savings for you, and most doors are able to be fully installed and secured within one day.
Improve Your Home's Appearance
Impact entry doors are one of the most cost-effective ways to enhance your home's curb appeal. The sturdy fiberglass material maintains a newer appearance for longer than wood, as it provides superior resistance against scratching, chipping, and water damage.
Generous Financing Options
Don't want to shell out a larger upfront cost to have your impact entry doors installed in your South Florida home? We work with the home improvement industry's leading lending organizations to offer our customers generous financing and warranty options with the possibility of deferring your payments by up to one year after the date of installation!
Get The Impact Entry Doors South Florida Homeowner's Want
At Paradise Exteriors, we're committed to providing the most thorough protection possible for doorways, windows, and roofs for homeowners across South Florida, from coast-to-coast.
To get started, contact us today to schedule your free quote.