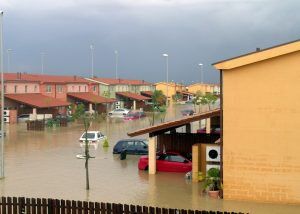 If you're a regular reader of our blog, you know that there are many precautions that you can take to make sure that your house is protected in case of a major weather event like a hurricane. What many people don't know, however, is that aside from the wind damage that a hurricane can cause, such a large storm brings with it the very real and very dangerous threat of flooding, which can also do tremendous damage to your property. That's why in addition to discussing the measures that homeowners can take to protect their houses against avoidable damage incurred in a major storm, it's also important to investigate flood insurance and consider purchasing such insurance if you live in a coastal area or one prone to flooding.
Even though the vast majority of US residents live in what is considered a flood zone, regular homeowners insurance does not cover damage incurred by a flood. This is profoundly unsettling, especially in light of the fact that if you live in an area that is prone to extreme weather events, your home is more likely to be damaged by a flood than a fire, and also the fact that mere inches of flood waters can cause damage that would cost tens of thousands of dollars to replace (you read that right – tens of thousands of dollars, a sum that would wipe out most peoples' savings in one fell swoop). And you don't have to live right along the water to suffer flood damage – think about when a major snowstorm hits your area; when the snow melts, it can leave a tremendous amount of water surrounding your property that can easily leak inside the foundation of your house and destroy its infrastructure. Furthermore, a flood doesn't only pose a threat to your house – if flood water reaches a height of approximately 2 feet, it can wash away your car in the blink of an eye.
This is why any homeowner who has a vested interest in protecting his or her property from weather-related damage should seriously consider purchasing flood insurance. If you live in a Special Flood Hazard Area (SFHA), and you have a Federally-backed mortgage, you are actually required by your mortgage lender to have insurance of this kind – but even if you don't, you are still eligible to purchase flood insurance if your community is part of the National Flood Insurance Program. If you live in a low or moderate risk area for flooding, you can buy a Preferred Risk Policy, which would protect your house and all of your possessions in the event of a flood for a relatively low, bundled cost.
Wherever you live, make the decision to protect your property and your belongings from the unpredictable whims of Mother Nature by purchasing flood insurance – and if you're interested in taking measures to protect your home from Hurricanes or other extreme weather events, please visit our website at ParadiseExteriors.com to learn how we can help you do just that.
If you need more info on how to protect your home from flooding, call Paradise Exteriors, LLC at 844-749-2121, or fill out our online request form.