Upgrade Your Palm Beach, FL, Home With Replacement Windows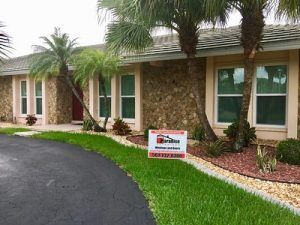 When choosing replacement windows, Palm Beach residents want to partner with a window company that's known for delivering outstanding results. By exclusively providing homeowners with professionally installed, premium-quality replacement windows, we've been named a top 50 window and door company in America by Qualified Remodeler and have received the Governor's Business Ambassador Award, among other accolades.
Our Replacement Windows Offer Many Benefits
Partner with us to receive replacement windows that:
Reliably withstand hurricane-force winds and impact from debris during extreme weather
Boast such robust break-in security that they have earned an affiliation with the National Crime Prevention Council
Effectively insulate indoor spaces and reduce energy costs thanks to multiple panes of glass, foam-filled frames, and other energy-efficient components
Offer wonderful visual appeal with their European-style bevel design
What to Expect From the Window Replacement Process in Palm Beach
The first step to having your windows replaced is scheduling a free in-home consultation. We'll tell you about our company, installation process, and double lifetime warranty protection.
When the time comes to install your replacement impact windows, you can trust that our highly trained team will perform the work using industry-recognized techniques. What's more, our hands-on project management practices will help to keep your window replacement on schedule and ensure that even the smallest details meet our high standards.
In the unlikely event that you ever experience any issue with your replacement hurricane windows, remember that help is just a phone call away. Through our double lifetime warranty and accidental glass breakage warranty, we fully stand behind the products we install.
Upgrade Your Home's Doors
When you're having your home's windows replaced, it's also an excellent time to upgrade your home's front door. We install exterior doors in an array of styles and finishes, giving you plenty of options to choose from.
Invest in a Roof Replacement
Making sure your Palm Beach home has what it takes to stand up to the next storm requires more than just investing in high-performance impact windows and doors. It also requires thinking about what's covering the top of your house. Luckily, Paradise Exteriors also performs roof replacements for local homeowners. Our partnership with industry-leading manufacturer GAF and our commitment to providing top-notch installation services sets us apart as the area's leading roofing contractor, and we'd be happy to put our skills to work for you.
Let's Talk Windows
For more information, contact Paradise Exteriors today. We proudly offer premium-quality replacement windows and exterior doors to homeowners in Palm Beach, FL, and the surrounding area.