Professionally Installed Impact Windows for Homes in Sarasota, FL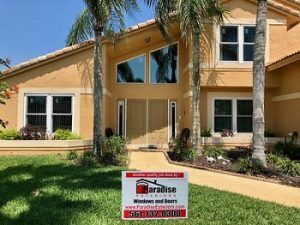 With an investment as important as impact windows, you don't want to partner with just any installation contractor. For this reason, homeowners in Sarasota, Florida, look to the trusted professionals at Paradise Exteriors.
We are the top-rated company for Sarasota Florida impact windows having earned a variety of accolades through the years. For example, we've been named one of the top 50 window and door companies in the United States by Qualified Remodeler, and we hold a sterling A+ rating with the Better Business Bureau. Furthermore, we've received the Governor's Business Ambassador Award because of the many jobs we've added to the Florida economy.
We'll Provide the Best Impact Windows for Your Home
While numerous home window replacement contractors prioritize products for maximum profit, our focus is on delivering your utmost satisfaction. Our Sarasota Florida impact windows, installed by experienced impact windows installers, exemplify this commitment.
Withstand sustained winds of 140 mph and gusts up to 212 mph, earning them a High Velocity Hurricane Zone (HVHZ) rating and making them the perfect choice to protect any home from extreme weather
Effectively reduce heat transfer thanks to multiple panes, warm-edge spacers, and other special features that can help lower your monthly HVAC costs
Come in a variety of attractive styles, including double-hung, a type of impact window that not many other contractors offer
Boast double lifetime warranty protection, as well as our accidental glass breakage warranty protection—a remarkably high level of coverage that you'd be hard pressed to find elsewhere
Door Replacement Services
Like our impact windows, our exterior doors stand out for their beauty, durability, and energy efficiency. Their fiberglass core gives them the strength of steel, while their exterior has the natural appeal of wood. Rated to be installed in High Velocity Hurricane Zones (HVHZ), they will work in conjunction with your windows to safeguard your home against Mother Nature's worst.
Partner with Paradise Exteriors and you'll likely have a tough time deciding what you love more—our high-performance impact windows, precise installation services, replacement services, or attentive customer care. Contact us today to schedule your free consultation in Sarasota, FL.