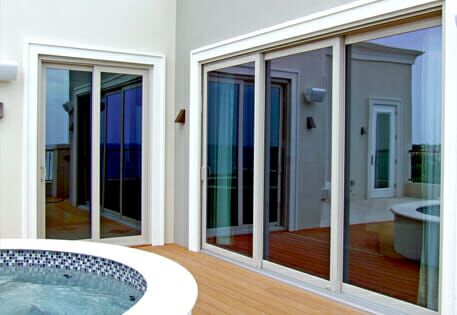 Custom Window WindPact Plus Vinyl Sliding Glass Doors are designed to tolerate high-impact and are high-performing. The frames create a positive seal to keep out harsh elements and are extremely durable and tolerant of strong weather. The two different types of doors that are available now are the 8900 Sliding Glass Door and the 8940 Sliding Glass Door. The 8900 is constructed of a weather resistant vinyl frame, a panel and interlock. There are seven different configurations to choose from. The screen track is on the outside and the design pressure is up to +/- 60. The 8940 Sliding Glass Door is constructed of a heavy-duty aluminum interlock and weather resistant vinyl frame and panels. Unlimited configurations are available using up to eight panels. It is even possible to customize the size of the panels. The screen track is on the inside, if preferred. There is a modular outer frame. There is a minimum of a 5.25-inch track depth if no screen track is preferred; however, this inside screen track is unique because it protects against damaging effects of coastal weather. The design pressures are up to +/- 70 or +/- 120.
The benefits of Custom Widow WindPact Plus Vinyl Sliding Glass Doors are plentiful. The doors meet all Energy Star standards. They are designed for high pressures. They are available at low emissivity levels, which provide protection from ultraviolet light and heat. They have a high performance Duraseal spacer system, which also has thermal protection and are energy efficient. This also helps keep the windows clear for longer. The translucent glass maximizes natural lighting. There are two different types of rollers, the standard size and the roller with larger wheels. There are five different styles of handles to choose from.
Custom Window Systems is up to date with the latest technology while maintaining an aesthetical appeal. Soon they are coming out with new products: a new impact line 6190 sliding doors, 6200 series horizontal slider, 6100 series single hung windows and 6500 series double hung windows. It will be very exciting to find out more details about their new products!
If you need more info on Sliding Doors, call Paradise Exteriors, LLC at 844-749-2121, or fill out our online request form.