Hurricanes have caused a lot of damage to properties since the dawn of time, hurricane windows were invented as a result of hurricane Andrew which affected south Florida in 1992. Hurricane windows in Boynton Beach are very useful ways of protecting your home from the powerful winds and flying objects. These can be installed when the house is being built, or they can be added to an existing house. The biggest benefit of hurricane windows is that your home is protected from damage caused by wind and water during a very powerful storm. Most of the damage to homes is caused when the window breaks. Flying objects can quite easily break the window, which then allows the high pressure air to enter your home. This can either blow the rest of the windows out, or can blow your roof off.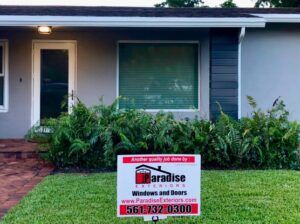 Traditionally shutters have been used to protect windows from damage, while other people will board up their windows every year. However these methods are not only expensive but they also require lots of your valuable time. Boynton Beach hurricane windows are always fitted in place and ready to protect, you do not have to do anything to prepare your home for the storm. These windows mean that you don't need any shutters or boarding.
There are also countless other benefits to installing these windows. Because they can stand up to hurricanes they also improve the security to your home. This means that it is very difficult to break into your home. If you install such windows you should be able to expect some form of discount from your insurance company.
The film which is on the windows prevents UV light from entering your home. This is what will fade the colors out of furniture, carpets and curtains. These windows also reduce noises from outside. Construction of Boynton Beach Hurricane Windows These windows are made from two layers of glass which is laminated. This means that there is a very strong piece of plastic between these two pieces of glass. If the window does shatter then the plastic film will remain in place, this will still protect your home from damage caused by rain.
All of these hurricane windows have gone through extensive tests to make sure that they live up to their claims. There have been impact tests which look at how well these windows will stand up to small and large hurricanes. Most of these windows are capable of withstanding hurricanes of up to 130 miles per hour. You can also install this glass into sliding doors and sky lights, which means that the whole house will be protected.
Installation of Hurricane Windows So that you can benefit from the protection these windows offer it is vital that they are installed properly. Even a top of the range window will do nothing to protect your home if it isn't installed properly. A professional is vital to help you install the window so that you know it's been done properly. If you do try to do it yourself you could well find that your warranty will be null and void.
Article Source: http://EzineArticles.com/1108572
If you're looking for Hurricane Windows in South Florida, call Paradise Exteriors, LLC at 844-749-2121, or fill out our online request form.