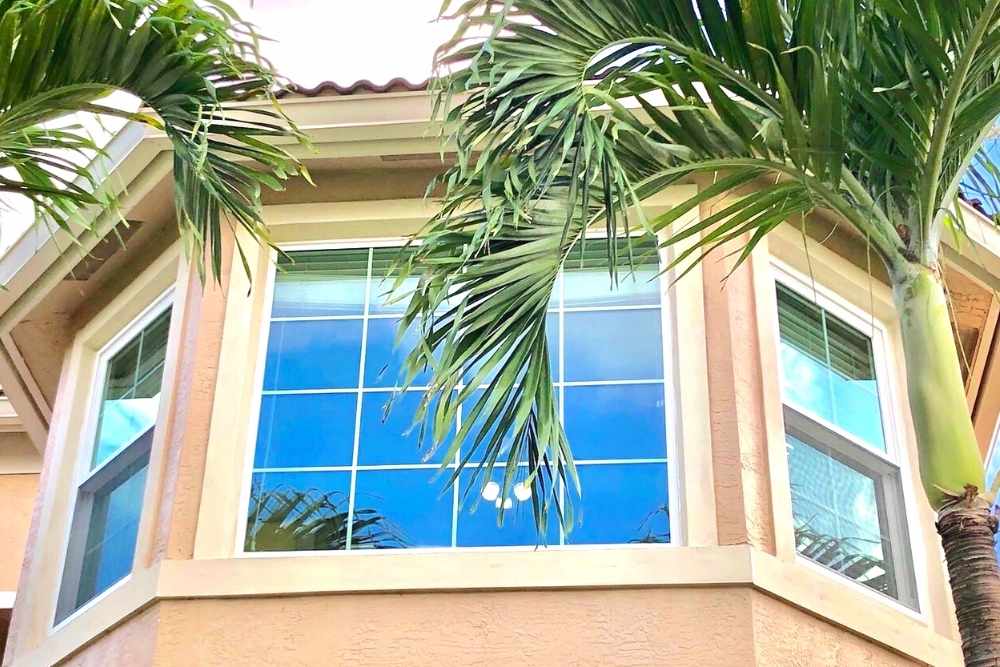 Everything You Need to Know About Impact Resistant Glass
If you're a resident of Florida, then you know that hurricanes are a part of life. And while you can't prevent a hurricane from hitting your home, there are steps you can take to improve its resistance to damage. One of them is installing impact resistant glass in your windows and doors.
Today we are going to provide you with a complete overview of impact resistant glass. We believe that, after reading this, you will have a greater understanding of its benefits for your home, including hurricane protection and much more.
How Impact Windows Are Constructed
Unlike traditional windows, impact glass is laminated with a special vinyl inner-layer that is sandwiched between two pieces of glass. It is this elastic inner-layer that absorbs the shock of an impact from flying windborne debris and holds the window together.
Some hurricane windows are also energy efficient. The frame of an energy efficient hurricane is vinyl because vinyl does not conduct heat like aluminum does. Also, since premium vinyl windows are treated with UV inhibitors and special strengthening agents, they have more than double the lifespan that most aluminum framed windows do.
Another difference with energy efficient hurricane windows is that the glass will be thermo-insulated. This requires yet another piece of glass that is installed with a gap filled with argon gas. This insulated glass can be Energy Star rated. The EPA has found that upgrading to energy efficient insulated glass can reduce electric bills by over 30%.
The most efficient windows will also have upgraded glass in addition to thermal-insulation. This premium energy efficient glass has extra additives and coatings that block the radiant heat of the sun, to help keep your home cool and comfortable in the summer.
The frame of an impact-rated window is also upgraded to be stronger than a traditional window frame. Vinyl hurricane windows have metal reinforcement inside the window frame. In addition, hurricane windows and doors are installed with larger heavy-duty stainless screws that are Florida tested and approved. Not only are the screws upgraded, but they are also installed with more screws than would normally be used for a standard window.
Compared to Other Hurricane Window Protection Options
Unlike shutters, boarding up your windows, or using hurricane fabric, impact resistant glass is the only permanently installed solution that requires no setup, teardown, maintenance, or off-season storage. When it comes time to prepare for a hurricane or tropical storm, you will be spending less time protecting your windows and have more time gathering the necessary supplies to either evacuate or shelter in place.
Why Impact Resistant Glass is the Future Standard for Home Protection
Though options like hurricane shutters remain popular, impact resistant glass is and will continue to be the standard for complete home window protection. Here are some reasons why:
Homebuyers Want Impact Windows
Did you know that impact resistant windows can actually increase your home's resale value? Homebuyers, especially ones moving to Florida from out-of-state want a simple and reliable solution for hurricane protection. Because these windows require no setup, teardown, or ongoing maintenance, they are the perfect option for someone who might be unfamiliar with hurricane preparedness compared to a longtime resident.
Home Security Matters More than Ever
Home security technology has become more prevalent than ever. With modern inventions like smart door locks, video doorbells, and motion-sensing indoor cameras, impact resistant glass is a natural complement to the other home protection methods that people are purchasing.
Impact resistant glass can also provide an added level of protection against burglaries and other home break-in attempts. The glass can withstand conventional instruments that an intruder might try to use to gain access to a home, thus deterring them from further attempts.
More Cost-Efficient Than Other Solutions
Did you know that impact windows are the only hurricane defense solution that could actually save you money?
Purchasing hurricane shutters comes with a heavy initial price tag. Over time, they will need maintenance and costly repair parts as they rattle against your home's exterior during a storm. When not in use, you will need to also have a space on your property to store them, such as a shed or garage.
One-time solutions like hurricane window fabric and plywood boards require you to spend money each time a storm approaches. Instead of gathering essential supplies and preparing for a potential evacuation, you might find yourself wasting this time in line at the hardware store.
Impact resistant windows are permanently installed in the home and provide maintenance-free hurricane protection for years to come. This gives you more time to prepare for these storms, and the added benefit of increased energy efficiency can actually help lower your monthly utility expenses. This results in generating long-term savings that begin from the moment you decide to upgrade your windows.
A Better All-Around Living Experience
Beyond protecting your home and improving its energy efficiency, some other popular benefits of impact resistant windows include:
Reduced outdoor noise levels
Enhanced UV ray protection
Greater interior insulation
Crystal clear views of your beautiful yard
Upgrade to Paradise Platinum Windows Today
Paradise Exteriors is proud to be the exclusive distributor of Paradise Platinum hurricane impact windows – the only impact resistant glass endorsed by the National Crime Prevention Council for home protection. We take pride in offering you the finest hurricane protection solutions, coupled with a professional and courteous service. Our customer-friendly financing and warranty choices further exemplify why we are the best impact window company in South Florida.