Why Hurricane Windows Are A Necessity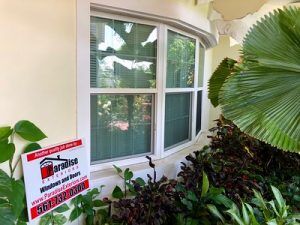 Living in Miami, Florida, offers many wonderful benefits, including terrific weather, beautiful natural scenery, and extensive cultural offerings. However, the one sacrifice that we must make to live in this paradise is having to properly protect our homes from the hurricanes that threaten to strike each year.
To safeguard your home, you'll certainly want to make sure that your walls and roof are in good condition. But you shouldn't overlook the important role that hurricane impact windows play in keeping your residence secure. Damaged, outdated, or low-quality windows can allow hurricane-force winds, rain, and airborne debris to enter your home, where they can cause tremendous damage.
How Our Windows Can Help
As a family-owned company based right here in South Florida, Paradise Exteriors recognizes what's at stake when you have replacement windows installed on your Miami, FL home. For this reason, we install top-of-the-line hurricane windows that have passed all relevant durability tests, including the Large Missile Level "D" test, which indicates the windows can withstand sustained winds of 140 mph and gusts of up to 212 mph.
Even if the glass breaks on the windows, their ultra-durable interlayer will not allow wind, rain, or debris to enter your home. This way, you can rest assured that you, your family, and your valuables are safe.
Give Your Home the Protection It Deserves
The ideal protection for your home is just a phone call away. Contact Paradise Exteriors today to schedule a free consultation for your new windows or exterior doors. We'll tell you more about the hurricane windows and the installation services we offer in Miami, FL, and provide you with a price quote on any options you're considering.