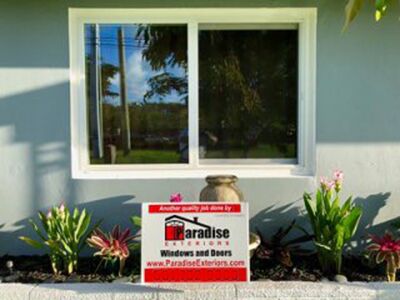 Miami and its surrounding communities comprise the largest metropolitan area in South Florida. Even by itself, Miami is the second-largest city in the Sunshine State. When hurricane season hits South Florida, the impact windows Miami residents prefer are available here from Paradise Exteriors.
Otherwise, without impact windows Miami homeowners often have to scramble to try and protect their homes from high winds and flying debris. Many turn to labor-intensive, costly, and time-consuming solutions like setting up hurricane shutters or nailing plywood boards to doors and windows.
As a more complete alternative solution for protecting your home against intense storms, hurricane impact windows offer a more permanent solution for year-round protection. Made of impact-resistant glass, they are designed to withstand severe forces that would shatter traditional windows.
Why Upgrade to Impact Windows?
Metropolitan areas like Miami are more densely populated than rural and distant suburban communities. As a result, more flying debris is generated when intense hurricane winds arrive. This creates greater threats to homes throughout the community and creates more opportunities for storm forces to breach the interior of the home and cause further damage.
High-rise living spaces like townhomes, condos, and apartments are also at particular risk of storm damage. Upper-level units cannot be shielded as easily, safely, or quickly with protection measures that require manual setup and teardown. Instead, impact windows can provide permanent protection to these uniquely vulnerable spaces thanks to their ability to maintain a protective barrier, even if they experience breakage during a weather event.
Impact windows can also be custom-sized and configured to satisfy a wide variety of aesthetics. For residents of HOA-governed communities or other property management organizations, this can help satisfy guidelines for building appearance while keeping your home's original beauty intact!
Best of all? Impact windows are virtually maintenance-free. Once installed (or replaced), they continuously provide protection. Any further upkeep, such as cleaning or polishing the glass, is 100% optional.
Here are some other reasons why you may want to upgrade to impact windows:
Reduce Outside Noise
Impact windows are also designed to reduce outside noise. In metropolitan areas, higher vehicle traffic and denser populations will naturally result in a louder living environment.
By installing impact windows, you can enjoy the added benefit of a quieter living experience indoors. This can help with a more restful night sleep, more peaceful leisure time, and can help calm pets that might be sensitive to noise.
Filter UV Light
Florida is known as the "Sunshine State" for good reason. Though we love sunny days in the city or at the beach, the UV rays that breach our homes can fade fabrics, dull painted surfaces, and degrade other possessions that we love. Impact windows can help by filtering UV light so that you can maintain the condition of your belongings for longer than with traditional windows.
Greater Energy Efficiency and Thermal Control
While South Florida is known as an incredible place to visit and live permanently, it also has a reputation for hot and humid summers. Traditional glass windows can create air leakage in the home, which allows cold indoor air to escape and places a greater strain on your cooling systems. In turn, this can generate higher energy costs.
The superior frame design and sealing capabilities offered by impact windows significantly reduces air leakage. This allows cooler air to remain in your home with less strain on your air conditioner. You could even save up to 31% on your monthly energy costs!
Improve Your Home Security
Impact windows can withstand the force of a blunt or sharp instrument that a burglar might use in an attempt to break the glass and enter a home. Instead, criminals are more likely to leave your property after an unsuccessful effort.
Upgrade to Paradise Platinum – Miami's #1 Hurricane Impact Window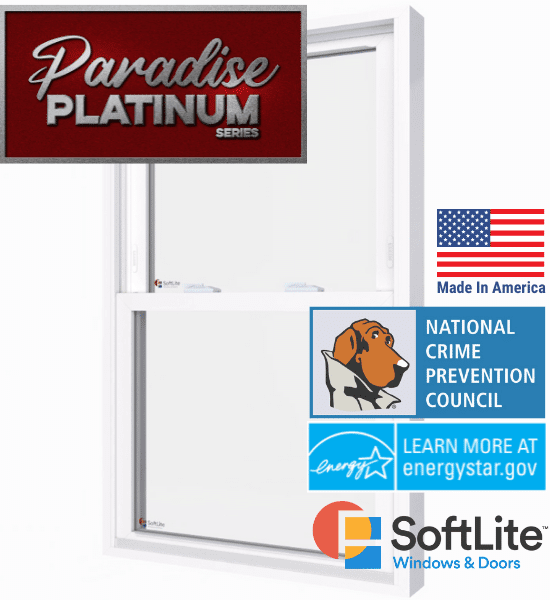 At Paradise Exteriors, we are proud to serve South Florida homeowners as the exclusive installer of Paradise Platinum Series impact windows. With multiple Energy Star Awards for energy efficiency and the only windows of their kind to receive an endorsement from the National Crime Prevention Council, the choice is simple when deciding which window to better protect your home with.
We are committed to providing you with excellent service through every step of the installation process, from the initial estimate through final inspection. Our installers can also assist you with permitting and HOA approvals to ensure that your new windows remain compliant with all local regulations.
To learn more about upgrading your home with Paradise Platinum windows, as well as our generous financing and warranty options, contact us today to schedule a free estimate in the Miami metropolitan area.