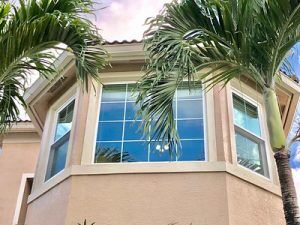 In Miramar, Florida, it's important to have windows that are as durable as they are stylish. After all, what good is an attractive window if it's shattered to pieces by hurricane-force winds? To protect your home during hurricane season and to keep it beautiful all year round, you're going to need hurricane windows in Miramar from Paradise Exteriors.
Since 2007, our extensively trained technicians have installed expertly crafted hurricane windows built to last through the toughest severe weather while adding to the unique look of your home.
Durable Hurricane Impact Windows From Expert Manufacturers
Paradise Exteriors installs top-notch hurricane impact windows such as Soft-Lite windows and the Icon and WindPact Plus windows from Custom Window Systems. Each window comes with its own impressive features meant to fortify your home against airborne debris and high winds, such as:
Marine glazing for a strong seal
Aluminum Window frames that are impact resistant
High design pressure ratings to withstand hurricane-force winds
And no matter which window you choose, each one is customizable, from its shape to its color, to fit the look of your home.
Beautify and Protect Your Home
Paradise Exteriors is committed to building our quality reputation one customer at a time, and it's our passion for excellent service and reliable hurricane windows that has earned us accolades like the Governor's Business Ambassador Award and an A+ rating from the Better Business Bureau.
To experience our award-winning services and to have the best windows installed at your Miramar home, contact Paradise Exteriors today for a free consultation.