Professionally Installed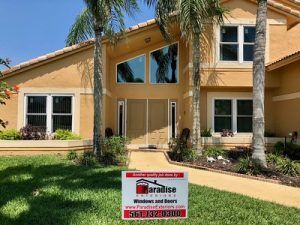 When you decide to have new impact windows installed on your Miramar, Florida, home, you'll discover that there's a seemingly endless number of contractors you could have complete the installation. So, how are you supposed to choose between these different window replacement companies? The best way is to look for objective indicators of excellence. Judged in this way, Paradise Exteriors will undoubtedly stand out as the company that's worthy of your trust.
Our Windows Provide Unbeatable Storm Protection
Because we understand the importance of having impact-resistant windows that will withstand even the most extreme weather, we source our hurricane windows from respected manufacturers such as Soft-Lite. Our Soft-Lite replacement windows can withstand sustained winds of 140 mph and gusts up to 212 mph, which you need as a homeowner living in Miramar, where hurricanes can strike any year.
Furthermore, our impact windows have an invisible protective interlayer that will keep wind, rain, and airborne debris from entering your home even in the event that the glass breaks. These same features also enable our windows to keep would-be intruders at bay, protecting you, your family, and your valuables far beyond hurricane season. For this reason, the window manufacturer has even earned a distinctive partnership with the National Crime Prevention Council.
The Impact Windows You Need
Like what you've heard so far? Just wait until you hear the rest—for instance, how our impact windows come protected by a double-lifetime warranty and accidental glass breakage warranty. Contact Paradise Exteriors today to schedule a free consultation and learn more about the benefits of having our high-performance windows installed on your Miramar, FL, home.