High-Performance Impact Windows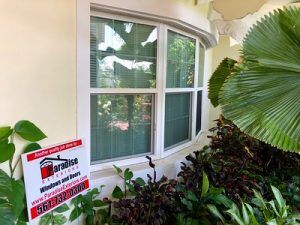 As a resident of Parkland, Florida, you're required to have hurricane windows installed on your home. However, just because windows have earned an impact-resistant designation doesn't mean that they have all the qualities you want.
To equip your home with impact-resistant replacement windows that will provide an all-around excellent return on your investment, turn to Paradise Exteriors. We'll install state-of-the-art windows that will make your residence more attractive, energy efficient, and secure, just as we've done for countless other local residents since our founding in 2007.
How Our Impact-Resistant Windows Will Protect Your Home From Extreme Weather
When a hurricane strikes, one of the worst things that can happen is to have hurricane-force winds enter your home through your windows. Our impact replacement windows will prevent this from occurring thanks to their invisible protective interlayer located between the two outer panes of glass. Even in the event that the glass breaks, this protective interlayer will stand strong, keeping you, your family, and your property safe.
You'll Love the Appearance & Durability of Your New Windows
Compared with the poorly constructed windows commonly offered by big box stores and less-reputable installers, Paradise Exteriors' impact windows provide greater comprehensive value for your investment. Our windows:
Feature a European-style bevel and other appealing design elements
Resist attempted break-ins so well the manufacturer has earned a partnership with the National Crime Prevention Council
Come in a variety of styles, including double-hung (we're proud to offer the only impact-resistant double-hung windows available in our market)
Boast a double-lifetime warranty and accidental glass breakage warranty to safeguard your investment
Contact Paradise Exteriors today for more information about how our smartly engineered impact windows can improve your home in Parkland, FL.